The Perfect Advantage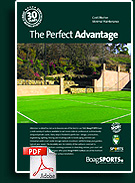 Attention to detail has led us to become one of the best in our field. With a wide variety of surfaces available to suit tennis clubs to professional, architectually designed private courts. Every step is finished to perfection - design, construction, engineering, lighting, fencing, retaining walls to landscaping and tree care. Under-court water storage captures maximum rainfall to keep your gardens lush. The durability and UV stability of the surface is resistent to Australia's harsh climate from scorching summers to drenching winters, your court will be ready for play year round (year after year). BoagSPORTS Surfaces are at the forefront of professional surface installation.
BoagSPORTS Surfaces have a passion for sports construction. We've been leaders in the industry for more than 30 years, installing the best quality tennis courts on time, every time, with over 1000 sports surface installations in both Australia and overseas, we're leaders in our field.
All our products and installations have extensive warranties and guarantees to give you peace of mind. Our success is measured by continued recommendations long after each job is complete. Exceeding our customers requirements and giving customised, personalised service ensures 100% satisfaction.
BoagSPORTS offer a wide range of equipment and courtside accessories.
• Tennis Court Nets
• Net Posts
• Black PVC Chain Mesh Fencing
• Retractable Curtains
• Ball Machines
• Sweepers
• Practice Boards
• Tennis Light Fittings and Globes